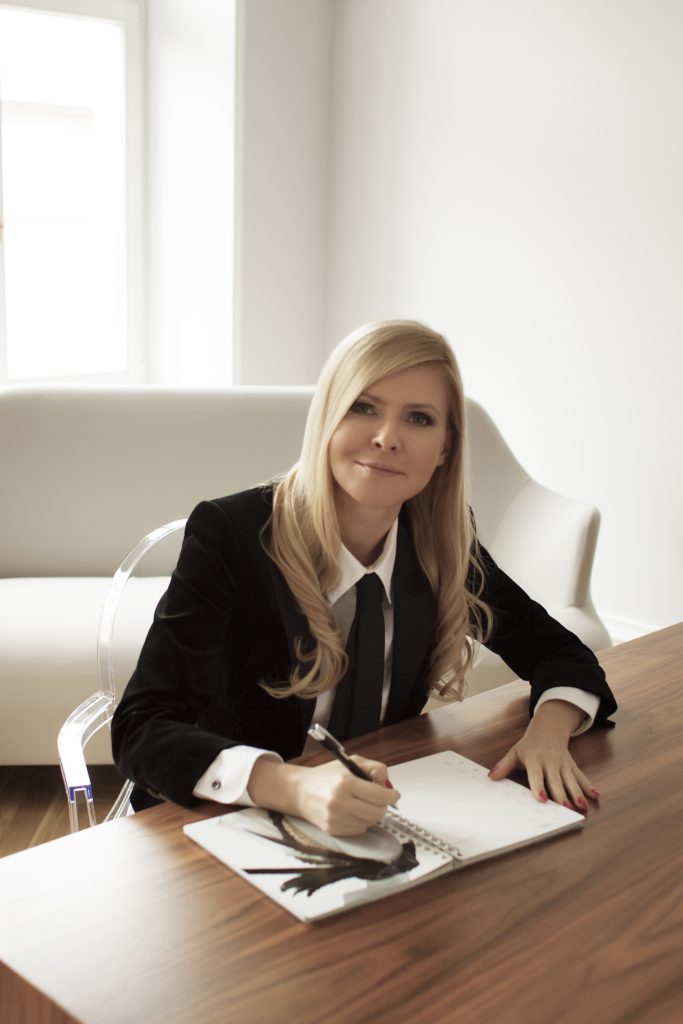 IDEA MILAN…
…IDEA is a word which holds limitless potential. A word which is beautiful and full of possibilities. Everyone should have their own idea in life. And MILAN… because Milan is one of the most important fashion capitals in the world, which I am lucky to know very well. I feel at home in this city. I find and draw inspiration from it, especially because I have so many creative and talented friends there who, like me, deal with fashion, PR and image. I work with many of them: graphic designers, artists, boutique owners, design specialists, promoters, models or just simply people who are in love with Italy and value good style. Everybody knows that the exchange of experience and knowledge about the latest trends is extremely important in this profession.
I know Milan like the proverbial back of my hand. I know where to look to find something valuable, beautiful, unusual and universal. Galleries, fairs and design shops there are places which I regularly visit. I don't stop convinced that I know everything! I'm always looking for new inspirations! I attend business meetings and industry events to get to know the beautiful Italian world even better because I want to transfer it to Polish reality. It is all the simpler because Poles love Italians and everything Italian: cuisine, temperament, views, clothes.
I do believe that by using the Italian potential and the power of creation of new ideas that lies in it, we can gain a fresh perspective and broaden our horizons considerably. That's why in my everyday work on style and image creation I like to reach for something that comes right from the famous catwalks, but can be easily introduced into everyday life. Something that adds a bit of character, but does not stand out above the norm. It is there in Milan where, according to the individual needs and arrangements of the Customers, I choose larger elements and charming details that enrich their wardrobes and… improve their mood! And thanks to the latest technologies, I make every decision together with those who are most interested in it.
I found my own IDEA. It's called MILAN, and to be precise, working in this amazing city!
Anyone who holds public functions, exercises an occupation requiring speeches or performing representative tasks, or simply wants to look good, knows that a properly developed image, in accordance with personal preferences, not only has a positive impact on well-being and adds self-confidence, but is also a great asset in relations with the environment.
My proposal is therefore addressed not only (but also!) to people of the world of business, law, medicine, politics, and even sport or culture. To everyone who, in their social and professional roles, have to take care of how they are perceived, and… have no head or heart to do so. But also to those who are just not fond of shopping – especially the shopping that will allow them to gradually and consistently build an interesting, unique wardrobe, suitable for every occasion and matching the personality.
I also offer a whole range of services based on knowledge and many years of experience which will help to build something that professionals call "personal identity". Services that will give the opportunity to build a coherent whole – not only a comprehensive visual identification, but also a philosophy concerning the image of a specific person and their professional or public activity.
I work with hard-working people who don't like running around boutiques, fitting rooms are not their cup of tea and they don't have time to choose something new for what they already have in their wardrobes. With people who focus hard on their work, but don't always have enough energy to give it the right setting. With those who while ordering more business cards and sending someone to their website, keep thinking that it could use some freshening up. With those who want to avoid image problems and in all circumstances look, present and promote themselves accordingly to the situation – whether at a business dinner, election meeting, lunchtime afternoon or coffee with a colleague. These are the people who will gladly accept the suggestions what other elements supporting their relations with the environment require some improvement.
For each cooperation, I start with an analysis and getting to know the taste and style of a given person. Both in the selection of the wardrobe and in the overview of other communication tools, I focus on the classics and quality of workmanship. I rely on proven brands, designers, programmers and graphic designers. Gradually and according to individual preferences, I build the image in such a way that it gives a whole range of possibilities for different occasions. My objective is to help you build your image and create your "personal identity". With me you will be dressed, not overdressed.